Firebird Finance Expands to The KuCoin Community Chain
Article Start
Disclaimer: The text below is a press release that was not written by Cryptonews.com.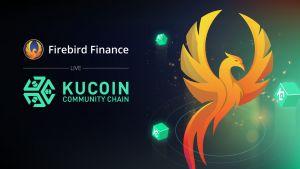 Today Firebird Finance has announced the project will expand to the KuCoin Community Chain (KCC). The protocol, live on Polygon and Binance Smart Chain, is looking to become a first-mover into the new network. Firebird Finance aims to become a cross-chain protocol for DeFi services and the move towards KCC is a strategic one not only for the project but for its user base.
On July 26th, Firebird Finance will become accessible to the KCC community. The initial deployment will include their state-of-the-art DEX and yield aggregator.
Since it's an EVM chain, KCC is fully compatible with the ERC-20 token standard. The use of a different consensus algorithm makes KCC cheaper to use. The lower transaction costs are transferred to the user swapping token via Firebird Finance.
KCC is using Proof of Staked Authority (PoSA) similar to Binance Smart Chain. PoSA will be less energy-intensive than PoW and reduce the block confirmation time to 3 seconds, improving processing and performance time on the chain. Finally, KuCoin Token (KCS) will be used as the native token of the network.
Based on KuCoin's large user-based, and innovative technology, it's expected that KCC will grow very fast. Both properties make it an ideal choice for expansion to the Firebird Finance protocol.
What services will Firebird Finance bring to KCC?
Starting July 26th, Firebird Finance's Swap DEX and Vaults will be accessible. KCC users will be able to exchange tokens using a top-of-the-line platform that ensures the best rates and lowest slippage. Additionally, Firebird Finance Vaults will be live at the same time.
As a result, Firebird Finance will become one of the first yield aggregators for KCC. Firebird Finance's OneSwap which is a specialized AMM for pegged assets, like stablecoins, will also be available at launch.
Users and projects will be able to create AMM pools and farming pools through Firebird Finance's unique FaaS tech to leverage their tokens usage. The OneSwap pools will come online at the same time.
Firebird Finance launches faucet for KCC
Additionally, Firebird Finance is launching a new faucet for KCS. It will transfer a small amount of KCS to your wallet to use in the new ecosystem. So, it will be easier for users to get the tokens needed to pay gas fees on the new chain.
Firebird Finance is bringing an easy-to-access DEX to the KCC network. The move seems a smart one for both the Project and its users.
Media links and giveaways
In honor of the KCC Launch, Firebird is hosting 3-day giveaways for all new members of its community on telegram and Discord.
Every newcomer will have a chance to win part of a 300 USD in HOPE prize pool by following the giveaway instructions here.
Website: //go.firebird.finance/15J
Twitter: //go.firebird.finance/twitter/15H
Telegram: //go.firebird.finance/telegram/15K
Discord: //go.firebird.finance/discord/15L
Article End
Source: Firebird Finance Expands to The KuCoin Community Chain